Description
How to find your model / year of manufacture

On the front side of your dust extractor there is a silver sticker (type plate) in the upper right or left corner with the designation of the model and the year of manufacture.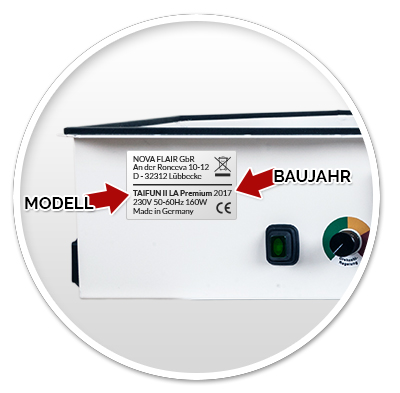 IMPORTANT: Use only original Nova Flair filters. If non-original filters or other third-party filters are used , the guarantee for the device will become void .
Q&A
Is this filter suitable for my dust extractor? Very easy! This filter is for dust extractors built after 2016. You can find your model designation and model year on the type plate, a silver sticker on the dust extractor. If the year of construction is before 2012, you must order your filters by telephone or email.
How often do I need to clean my filter? Cleaning varies depending on customer volume and maintenance. If your dust extraction is getting a little noisy, this is a sign that you should clean the filter. As a rule, cleaning is only carried out 3-4 times a month, even when there is a high number of customers.
How often do I need to change my filter? With a normal number of customers of 4-7 customers, a filter change should be changed daily after a year at the latest.
How many filters do I need? One filter is enough for the Taifun I GreenTech and Taifun I GreenTechII. You need two filters for the Taifun II Premium GreenTech. Please note this when placing your order.
Payment & Security
Your payment information is processed securely. We do not store credit card details nor have access to your credit card information.