Description
New: Optimized with reinforced filter material and

metal frame

(more durable and stable than before)

For Hurricane dust extraction
How to find your model / year of manufacture
There is a silver sticker (type plate) on the left or right of the front of your dust extraction system with the designation of the model and the year of manufacture.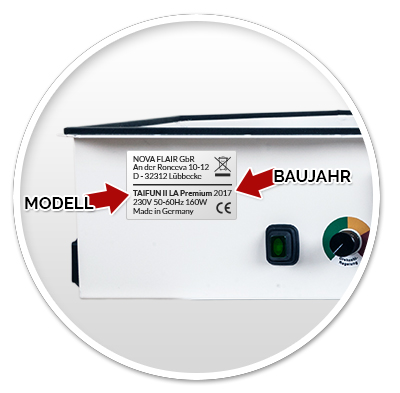 IMPORTANT: Use only original Nova Flair filters. The use of non-original filters will void the device warranty.
Only use original filters!
In order to ensure maximum performance and filtering ability, please only use original Nova Flair filters.
Please note that the use of third-party products/accessories and non-original Nova Flair filters will void the warranty.
Q&A
Is this filter suitable for my dust extractor? Very simple! This filter is for dust extractors of the "Hurricane" series. You can find your model designation and the model year on the type plate, a silver sticker on the dust extractor.
How often do I have to change my filter? With normal customer traffic of 4-7 customers, a filter should be changed daily after a year at the latest.
Can I buy filters at the fairs? Yes, we have them at every one. Measure filters for you. Important: Do not come too late, it can happen that the filters we brought with us are sold out quickly.
Are there discounts on the filters? We are constantly working on optimizing, stabilizing, and improving our filters. For some time now, these have even been made from a thicker and reinforced filter material and also equipped with a metal frame, so the filters are now much more stable and durable. In addition, a new type of black seal has recently replaced the previous felt seal, which has the advantage that the filter nestles even better against the edge - especially in the corners. The price, on the other hand, has not changed for over 10 years, on the contrary, since 2020 the filter has even been reduced! That's why it's not possible to give further discounts on our filters, because the filters have improved a lot and the price has even dropped.
Payment & Security
Your payment information is processed securely. We do not store credit card details nor have access to your credit card information.